Our Staff Members and Contributors
Pat Hampton, Publisher | Kim Beltran, Editor | Shelley Martin, Advertising & Circulation | Ellen Smith, Legal Advertising & Calendar | Gene Duffy, Jr., Sports | Claudia Aceves, Cub Reporter | Yvonne Henry, Photographer | Chick Harrity, Photography Coach | Linda Williamson, Columnist | Jeri Hansen, Columnist | Pad McGinnis, Columnist | Larry Kuzdenyi, Weather

Former Staff Members

Pat Hampton
Publisher
patatcalistogatribunedotcom
From the day she stepped into the Journalism 101 class at Mark Keppel High School and after earning her bachelor's degree in journalism at San Jose State College, publisher Pat Hampton knew she was born to be a newspaper reporter.
Moving to Calistoga in 1985, she worked on The Weekly Calistogan for nine years under the Brenner family before a new publisher and she parted company in 1998. Four years later, friends and family asked her to start another newspaper for Calistogans who wanted more and better coverage than they were getting at the time. She would still rather be a reporter than a publisher, but somebody had to do it.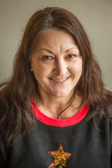 Kim Beltran
Editor
Kim was trained to be a reporter at the University of Nebraska-Lincoln School of Journalism, and has spent the last 29 years chronicling the Napa Valley's issues and its residents.
From her days as a news and sports reporter at the Brenner family-owned St. Helena Star, she moved to the editing side of the newspaper business at the then Scripps-owned Napa Valley Register, where she became City Editor in charge of local news coverage.
When former Star co-worker Pat Hampton called her in 2002 asking if she'd like to help start a new Calistoga newspaper, Kim happily accepted the opportunity to return to her small town reporter roots. In 2010, tired of eight years of city council meetings and the stresses of low pay and lots of work, Kim turned in her pica pole and headed East in search of new adventures. But she returned in 2016 and has taken back the reins and continues to improve the paper.
Christy Webb
Advertising & Subscriptions
editoratcalistogatribunedotcom
Christy, a very creative graphic artist by trade, started part-time with the Tribune at its founding in 2002. After raising a family and working independently, she returned in 2019 to take on the duties of advertising sales manager.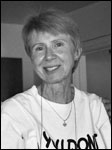 Ellen Smith
Legal Advertising & Calendar Editor

adsatcalistogatribunedotcom
Ellen Smith has been in graphic design all of her working life. For many years she was employed as a junior, and then senior designer at firms specializing in corporate design and advertising. In the mid-80s she formed a design partnership in San Francisco that continued for 20 years. It was during this period that advertising sales also became a necessary part of her career path. Upon the sale of her business and subsequent move to Calistoga, she found a happy home at the Calistoga Tribune. There she was able to continue using the skills she had acquired, but in a new and welcoming environment. She is now our Legals editor, working with the City of Calistoga and County of Napa on legal advertising as well as the dozens of ficticious business name statements that arive weekly.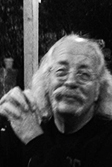 Gene Duffy, Jr.
Sports

A 47-year resident of Calistoga, and a 1969 Calistoga High School graduate, Gene Duffy covers all of Calistoga's High School Sports for the Tribune. An Illinois transplant, Gene migrated to the west coast in 1968 where he found his soul mate living "right down the street" from his father's facility on Myrtledale Rd. His high school sweetheart Debbie (Sakai, CHS Class of 1971) and he were married in June of 1971. In November of 1972, the couple was blessed with the birth of their son Brad (CHS 1990). Gene served in the United States Coast Guard 1969-1973, taking him to Samoa, New Zealand, Japan, Russia and both the North and South poles. After a 30-year career as worker, manager and eventual owner of "Duffys", Gene retired in 2012, sold his interest in the family business and moved to Santa Rosa with his wife to be nearer their grandkids and Brad. With no formal writing or photography experience, Gene saw a need, and with Pat Hampton's gracious offer, began to follow and report on the Wildcats and the antics that accompany them. His passions other than family are classic cars, old guitars, feral cats and the next Wildcat game.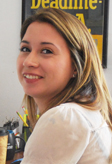 Claudia Aceves
Reporter

Claudia Aceves discovered she wanted to be a journalist as soon as she began attending Santa Rosa Junior College in 2012. After being undecided, she gave SRJC a shot to explore subjects she could potentially pursue as a career. She realized writing was something she was good at, and enjoyed doing.
Now she is working toward getting her Associate in Arts degree in journalism at the JC, then transferring to a CSU Dominguez Hills in fall 2017 to attain a bachelors in arts.
She works part-time as reporter helping Kim cover everything Calistoga.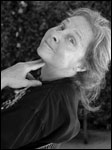 Yvonne Henry
Photographer
Yvonne Henry is fine art photographer who loves mysteries and Calistoga. This partially explains her dedication to the Mystery Photo which has been a reader favorite since 2002 and appears in the Calistoga Tribune every Friday. She also contributes to our monthly tourist publication, Mud City Weekender.
You can see more of her work at http://www.whimsyworks.net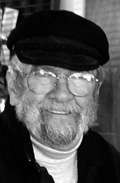 Chick Harrity
Photography Coach

Chick Harrity has been a photo-
journalist for over 50 years, 33 of them in Washington, D.C. covering the White House for the Associated Press and US News & World Report magazine. On April Fools day of 2001 he left US News to move to Calistoga, where he was introduced to Pat Hampton when she was planning to start the Tribune. He foolishly volunteered to help and is now the Photo Coach and occasional contributing photographer. You can see more of his work at http://www.whimsyworks.net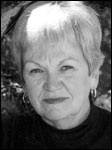 Linda Williamson
Columnist
Linda Williamson's columns on growing up in Indiana are a favorite of Tribune readers. Her insight into childhood, the Midwest, and her love of international travel opens new worlds to her fans. She is funny, sometimes irreverent, and always entertaining. A retired high school journalism teacher, Linda's prose has attracted hundreds of followers in her time with the Tribune.
Jeri Hansen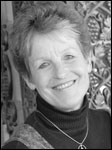 Columnist
Often critical of the politicians that seem to be making matters worse instead of better, worried about the state of the world and the lack of compassion for those who are oppressed and forgotten, Jeri's columns reflect those from a woman of opinion and deep beliefs in the power of goodness and right. She has been a faithful contributor for the past 10 years, drawing both criticism and praise for her viewpoints, but never indecisiveness.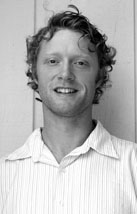 Pad McGinnis
Columnist
Bringing a youthful, funny and insightful viewpoint of a Millennial to the pages of the newspaper, Pad McGinnis's bi-monthly column "Obfuscations (he named it himself) is a valuable addition to the voices in the Tribune. Whether he is writing about true love, what's in a name or taking a stand for internet freedom, Pad is sure to open new doors to readers.

Larry Kuzdenyi
"Weather Guy"

As a USAF air traffic controller, Larry Kuzdenyi was always intrigued by the weather. After retiring to Calistoga in 1989, Larry and fellow golfer Pete Tedeschi found another common hobby - tracking the weather. Pete Tedeschi started reporting weekly rainfall totals for the Tribune in 2004.

Upon Pete's passing in 2008, Larry answered an ad asking for a volunteer to continue the weather reports. Larry still enjoys, come rain or shine, being the Tribune's "weather guy."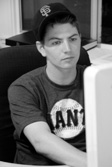 Noah Hampton-Asmus
Former Managing Editor

From the first edition of the Tribune issued on April 26, 2002, Noah, then 14, has contributed to the newspaper's success in many ways by reporting and photographing the sports programs at Calistoga High School and local newsworthy events. At 16, Noah earned a second place in sports photography in the statewide Better Newspapers Contest sponsored by the California Newspaper Publishers Association.
After traveling, Noah came back to the paper in spring of 2013 as Managing Editor for the rest of the year. We appreciated his style and his dedication to giving voice and images to our town while Managing Editor. We hope someday he might want to return to the Tribune, at least his mom does.